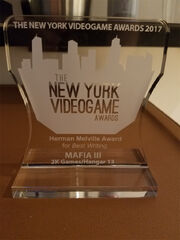 Mafia III won the award for best writing at the New York Video Game Awards last night, and as much grief as I've given this game in these blog posts, I think this was well deserved. Lead writer William Harms did a superb job capturing the game's 1968 setting, giving each character depth and bringing them and the world of New Bordeaux to life for us within the game.
I can still remember being riveted to my screen as I played the opening chapter back in October, never have I seen a video game pack so much storytelling into it's opening before. Congratulations to Mr. Harms and the rest of the writing team at Hangar 13 for the win, I can't wait to see what you have in store for us in the upcoming DLCs.
Ad blocker interference detected!
Wikia is a free-to-use site that makes money from advertising. We have a modified experience for viewers using ad blockers

Wikia is not accessible if you've made further modifications. Remove the custom ad blocker rule(s) and the page will load as expected.