A small bit of news regarding the story DLC for Mafia III. There's been a few posts on Twitter and Facebook recently that shed at least a little light on them. I find it a bit odd how you have to glean information like this by searching through social media posts looking for replies instead of them just making some kind of official announcement, but it is what it is.
From what was posted, the story DLCs will add new locations, new narratives, new cars and weapons, and even new gameplay mechanics. As of Jan 25th, they are supposedly wrapping up the first DLC and they will all be accessible once you have unlocked your three Lieutenants.
On a side note, I continue to find it odd how they keep flipping back and forth between calling Cassandra, Burke and Vito Underbosses in some instances and Lieutenants in others, they've been doing this since they first announced Mafia III.
Anyway, I've uploaded the relevant posts below.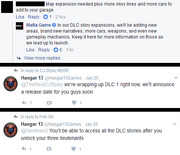 UPDATE:
Hangar 13 finally released something official, Faster, Baby! will be released in March. No actual date, so take that for what it's worth. Also, Stones Unturned is scheduled for May and Sign of the Times for July. Read more about it here.
Ad blocker interference detected!
Wikia is a free-to-use site that makes money from advertising. We have a modified experience for viewers using ad blockers

Wikia is not accessible if you've made further modifications. Remove the custom ad blocker rule(s) and the page will load as expected.