Trago Gas Stations are a chain of businesses found in the Mafia Series.
History
The stations are owned by parent company Trago Oil Co., located in Empire Bay. They offer various automotive services such as refueling, automated car washing, engine oil, and other related products.
Mafia II
There are eight gas stations in Empire Bay located in Dipton, East Side, Greenfield, two in Little Italy, Oyster Bay, Sand Island, and West Side. They offer the player the ability to refuel their vehicle. To do so, simply park next to a pump and press the action button and an attendant will fill it up while you sit comfortably in your car. While the cost per gallon isn't listed, it costs about $6.00 on average to fill a vehicle up from empty.
Shiny Car Wash
Gas stations also offer Shiny automated car washes. When you begin a wash, you will watch an animation showing the car enter, get washed, and then exit. However, if the vehicle you're driving is a convertible, you will skip the wash process and just see the clean car exiting the wash bay. The prices are .05 cents in the 1940s era and .03 cents in the 1950s.
Mission Appearances
Radio Advertisements
Trago Gas Station ad
Trago Oil ad
Shiny Car Wash ad
Mafia III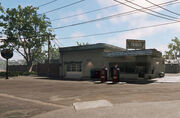 Though not as popular as Best Oil, Trago gas stations are also located in New Bordeaux, with locations in Bayou Fantom, Delray Hollow, and Frisco Fields.
Notable Items
Trivia
Mafia II
Parking a vehicle in your garage will reset the fuel to about 3/4 tank, even if you have just filled it up.
Due to the low cost of fuel in that era, robbing a gas station will yield very little cash.
Shooting the gas pumps will cause a violent explosion.
There is a bug where upon exiting the car wash your vehicle may glitch, shake violently and then explode into pieces. This doesn't harm the player, but you may be stuck in the car unable to exit or drive off. Quitting and reloading is your only option.
Gallery