The Southern Union is a criminal organization in Mafia III.
History
Background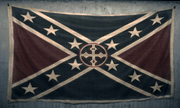 The Southern Union is a white supremacist group in New Bordeaux. They are allied with Remy Duvall and the Marcano Crime Family, as well as Sheriff Slim Beaumont and the Sinclair Parish Sheriff's Department.
Operations
They operate out of Frisco Fields, where they hold rallies at Cleavon Duvall State Park and run a secret human trafficking ring out of Bellaire's Supermarket, selling captured black people as slaves to rich white clientele. In Sinclair Parish they work in conjunction with the Sheriff's Department in keeping the parish an all white community.
Appearances
Mafia III
Faster, Baby!
Members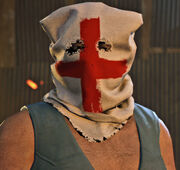 Trivia
Gallery
Ad blocker interference detected!
Wikia is a free-to-use site that makes money from advertising. We have a modified experience for viewers using ad blockers

Wikia is not accessible if you've made further modifications. Remove the custom ad blocker rule(s) and the page will load as expected.