Braxton Harless is a character in Mafia III DLC Sign of the Times.
History
Braxton Harless was a Confederate General in the Civil War, the head of the Harless Clan and founder of The Ensanglante.
Family
Information coming soon.
Appearances
Information coming soon.
Trivia
Information coming soon.
Gallery
---
History of General Harless and The Ensanglante
Harless was a civil war General.

No age or date of birth given.

Civil war - 1861-1865.

Robert E. Lee: Born: January 19, 1807 - Died: October 12, 1870
Stonewall Jackson: Born: January 21, 1824 - Died: May 10, 1863
J.E.B. stuart: Born: February 6, 1833 * Died: May 12, 1864
Nathan Bedford Forrest: Born: July 13, 1821 - Died: October 29, 1877
James Longstreet: Born: January 8, 1821 - Died: January 2, 1904
George Pickett: Born: January 16, 1825 - Died: July 30, 1875
Albert Sidney Johnston: Born: February 2, 1803 - Died: April 6, 1862
Assuming the average date of birth of other generals, Harless would have been born in aprox 1820, making him roughly 45 when the war ended.
According to Father James, the opera house fire was 60 years earlier, making it 1908
If this is when Harless dies, it would make him 88 years old. Feasible, but unlikely in those days. (However, General James Longstreet listed above lived to 83.)
The Letter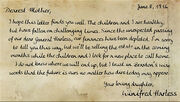 Who is Winifred Harless? Wife? Daughter?
The letter was written in 1916 and speaks of the unexpected passing of general Harless, as though it was somewhat recent.

Even if he had died recently, how could the death of an 80+ year old man be considered unexpected?

Winifred is writing it to her mother, so if she was Harless' wife she must be considerably younger than him, either that or her mother is well into her hundreds (doubtful).
She speaks of her and "the children" looking for a new place to live. Her children? That would imply they're young enough to still live at home, teens or early twenties at the oldest.
If she's Harless' wife, and these are their kids, he not only had a much younger wife, but he fathered children well into his 80s. (doubtful)
Doesn't make much more sense as his daughter (or daughter-in-law).
If it's his daughter, she's writing the letter to her mother. Is that Harless' wife?
If she's his daughter, her surname is still Harless, did she have kids out of wedlock and never marry? (doubtful)
If she's the daughter and writing to her mother (Harless' wife) then why is she explaining their money problems? Wouldn't the mans wife know this?
And why would she be selling the Harless Mansion, wouldn't his wife be living there?
I suppose she could be writing the letter to her mother-in-law, but then why does she still have the Harless surname?
If she was married to one of Harless' sons, then why is her name listed under his on the family tree instead of the son? File:Harless Family Tree 1.jpg
Ad blocker interference detected!
Wikia is a free-to-use site that makes money from advertising. We have a modified experience for viewers using ad blockers

Wikia is not accessible if you've made further modifications. Remove the custom ad blocker rule(s) and the page will load as expected.