The Mafia Wiki
Mafia Wiki: Select Your Game Experience
Featured Article
Duffy's Irish Pub opened over 60 years ago. Since then it's attracted all sorts of artists, specifically writers. More than five noted authors have sat in Duffy's for days, drinking and writing, claiming the bar gave them inspiration for their books. It even became a second home to New Bordeaux's own Genevieve Fabry as she was writing her first collection of poems. Read more • Read other featured pages
---
Mafia Series Trivia: How many Mafia III soundtrack musicians performed at Woodstock in 1969? Click here to find out.
---
Mafia Wiki News
Mafia III tells a riveting story in a way that's both compelling and original.

I've been playing since midnight Oct 6th and I finally finished it afte…

Read more >
---
Featured Videos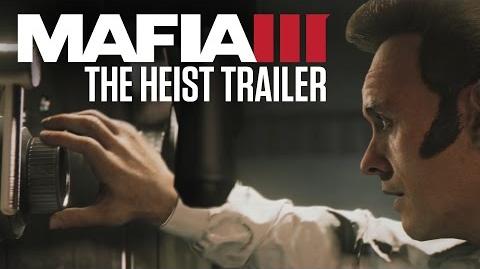 Social Media
Fourms
Forum Activity
Poll
Are you looking forward to playing Mafia III?
Action-Adventure Games
Go to these sites for info or for help with your own wiki!
Assassin's Creed • Bayonetta • The Binding of Isaac • Devil May Cry • Dragon's Crown • Driver: Parallel Lines • Fran Bow • God Eater • Grand Theft Auto • Just Cause • King's Quest • HITMAN • L.A. Noire • The Last of Us • Legacy of Kain • Legend of Zelda • LEGO Dimensions • LEGO Marvel and DC • Mafia • MediEvil • Metal Gear • Monster Hunter • Ninja Gaiden • No More Heroes • Prince of Persia • Quantum Break • Senran Kagura • Shenmue • Sleeping Dogs • Space Quest • Splinter Cell • System Shock • Titanic - Adventure Out of Time • Tomb Raider • Uncharted • Yakuza
Want your community included? See how!