The Mafia Wiki
Mafia Wiki: Mafia Portal
Game Content
Featured Article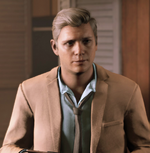 John Donovan graduated from Princeton University in 1953 and was recruited into the CIA soon after. As an operative he was sent into Vietnam where he ran covert operations against the North Vietnamese regular and Viet Cong forces. During an operation in April of 1966, Donovan met Corporal Lincoln Clay, who distinguished himself by controlling the battlefield despite overwhelming odds. Donovan continued to work with Lincoln and the two became close friends and colleagues during their time in Vietnam. Read more • Read other featured pages
---
Mafia Series Trivia: What Mafia III soundtrack musician is considered "The King of Rock and Roll"? Click here to find out.
---
Ad blocker interference detected!
Wikia is a free-to-use site that makes money from advertising. We have a modified experience for viewers using ad blockers

Wikia is not accessible if you've made further modifications. Remove the custom ad blocker rule(s) and the page will load as expected.