Garden of Eden
Talk

9
1,313pages on
this wiki
Are you looking for the Cathouse, a mission in Joe's Adventures?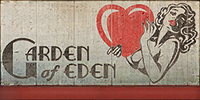 The Garden of Eden, often referred to as the Cathouse, is a strip club in Empire Bay.
Background
It is frequently visited by many mobsters including Falcone underboss Eddie Scarpa, Clemente soldato Henry Tomasino and Joe Barbaro also visits it along with many other members of the Clemente, Falcone and Vinci crime families. Vito Scaletta visits in a cutscene during the mission In Loving Memory of Francesco Potenza but cannot enter it again during gameplay. Vinci Consigliere Leone Galante may also be a frequent visitor as at the end of Per Aspera Ad Astra he, Vito and Joe start to go there. However, Joe's car goes another way, presumabley so he can be killed. So it is unknown if they get there. It's quite strange that Leo would take Vito to the cathouse to celebrate as it's owned by the Falcone's and Vito had just killed Carlo Falcone on Leo's orders. It is run by the Falcone crime family and owned by Eddie as Carlo wanted to reward him for his help in the Vinci-Moretti War. It is featured in the mission Cathouse in Joe's Adventures, it is also seen in the cutscene after the mission Connection is complete.
It is located north of Oyster Bay, right on the border with Chinatown.
Mission Appearances
Mafia II
Joe's Adventures
Staff
Trivia
Gallery
Mafia II
Joe's Adventures