Faster than Light is an achievement in Jimmy's Vendetta.
Requirements
Achieve a 10x point multiplier in "Jimmy's Vendetta."
Walkthrough
This must be completed during a mission. Point multipliers are given when you kill enemies or destroy cars in succession. Simply get the multiplier count to ten without letting the timer run down and you will receive the achievement.
The timer, not to be confused with the green mission timer, is represented by a series of lines that begin when you complete a task and then count down until you complete another. The multiplier count is located at the end of this timer in the upper right corner of the screen.
You can get this through normal play as early as the first mission. However, if you're having difficulty you can start a mission and find a parking lot or street with at least ten parked cars. Make your way from one to the next shooting the gas tanks until you reach ten.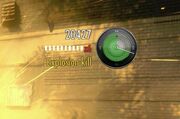 Ad blocker interference detected!
Wikia is a free-to-use site that makes money from advertising. We have a modified experience for viewers using ad blockers

Wikia is not accessible if you've made further modifications. Remove the custom ad blocker rule(s) and the page will load as expected.