Another Brother Falls is a story mission in Faster, Baby!.
Overview
An old friend's waded into a civil rights crisis and needs your special set of skills. Head down and lend a hand.
Narrative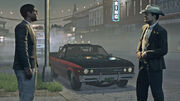 Over the last year, The Voice has been focused on Sinclair Parish and taking down its racist Sheriff, Walter "Slim" Beaumont. Together with his daughter Roxy Laveau, they've put together evidence and witness testimony to turn over to a civil rights attorney in Washington DC. When the Sheriff kills civil rights worker Ezekiel Dandridge late one night and takes The Folder full of evidence, Laveau calls in his trusted friend Lincoln Clay to get it back and deal with Slim Beaumont.
Walkthrough
Meet The Voice.
Drive to Sinclair Parish.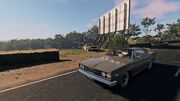 Lose the deputies.
Note that you cannot bring the heat to M.J.'s safehouse.
Drive to M.J.'s.
Meet Roxy's partner at his safehouse.
Stop the car and get out.
Result
Completing this mission grants the achievement Another Brother Falls and opens up the mission Ten Double-Zero.